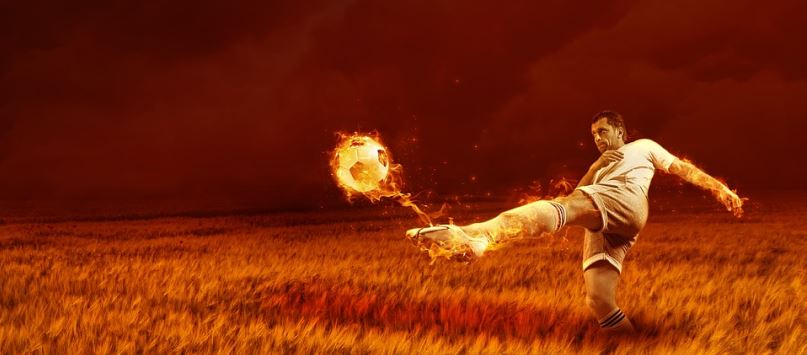 Soccer uniforms or jerseys have always played an important role in the history of the biggest sport on earth. From the early creation of soccer to the modern age, soccer uniforms have evolved with the times and continue to serve their aesthetic and functional purposes. Now, technological and industrial advances continue to produce soccer uniforms that are lighter and more breathable than ever, boasting fabrics that are made from cotton, nylon and polyester blends. Now, with the innovations of wearable technology, equipping athletes with satellite technology could be the future.
Looking back a decade, the entire market of wearable computer systems in the sport-tech industry was quite small. According to a study by the Venture Development Corporation, the market was worth around $170 million in 2005. Gadgets for pro sports made up a slim portion of that, though they're expected to become a significant portion of the wearables industry, which has since increased to $20 billion and is projected to reach $70 billion by 2025. Live-tracking devices that fit into jerseys were already used by single athletes during practice to pick up important data. Some players of the American Major League Soccer have already used jersey-embedded GPS devices during games to track how quickly they can deke someone out or monitor their "power output" when they strike a ball. These GPS devices rest between players' shoulders in a sleeveless bib or pocket and transmit live data about their location and speed.
But now special shirts with integrated bio vital sensors are available on the market. The real-time tracking of athletes during a game is actually more a permission issue. The technology is available and has to be implemented in a proper way. In the future, we also see a big chance to enhance the visitor or spectator experience during a game via real-time sensor data.
Polar Team Pro Shirt
One of the leading companies is Polar. At CES 2017 they introduced the Polar Team Pro Shirt which integrates heart rate technology directly onto the fabric as well as GPS technology via a corresponding sensor. Available in March 2017 for team sports the shirt allows coaches to gain insights into their players' effort, speed recovery and other metrics throughout the season. The company's first-ever heart rate monitoring and GPS tracking apparel is fully-designed and developed by Polar, and optimized for athletes. The interior of Polar Team Pro Shirt features two thin, unobtrusive heart rate capture points built directly into the fabric, which track heart rate metrics as well as remove the added bulk of a heart rate unit.
The Shirt captures real-time heart rate data, allowing coaches to gain insight into an athlete's performance, and adjust training as needed. In addition to heart rate tracking capabilities, a small, lightweight sensor pod fits into a pocket on the back collar and provides motion tracking, providing metrics such as an athlete's speed, distance, and acceleration. The Polar Team Pro Dock syncs offline training data from the Polar Team Pro sensors to the Team Pro app on the coach's iPad. Coaches all over the world have discovered how Polar technology can help them track and analyze player performance throughout the season. Read their stories and learn how you can benefit from Polar Team Pro GPS based athlete performance tracking in your organization.
AIQ Smart Clothing
Another interesting solution which could be used by sport teams to analyze different data could be delivered by AIQ Smart Clothing. AiQ Smart Clothing Inc. creates fashionable, functional, comfortable solutions for outdoor & leisure, home & health care and especially sports & fitness. AIQ is offering a complete integration of functional and fashionable technologies. Their Bio-Monitoring solution could be used by sport teams all over the world. It´s still not at the point they want to reach, but the miniaturization in the Wearable Technologies market is going forward fast. We already have some intelligent fibers and new kinds of nanotechnologies which could be printed on soccer jerseys or other stretchable materials and could enable small and nearly invisible tracking solutions of bio vital data for athletes and they combine wearable electrodes with modern information technology that provides vital sign monitoring for different applications. Paired with Bluetooth connectivity, BioMan is perfect for weight control, sports training and health monitoring. So let´s see if AIQ Smart Clothing will be part of the soccer jerseys future.
Let´s look forward to the future. How will football jerseys look in about 20 years? Hopefully all of them will be connected and there will be a kind of a core technology hub, like a black box in a plane. The shirt in 20 years will act with much more applications than today. Color changing materials could act like displays for the audience. The whole shirt will be used for health related information for the coach, for spectator enhancement during the match and for additional promotion or fan enhancement via display applications.