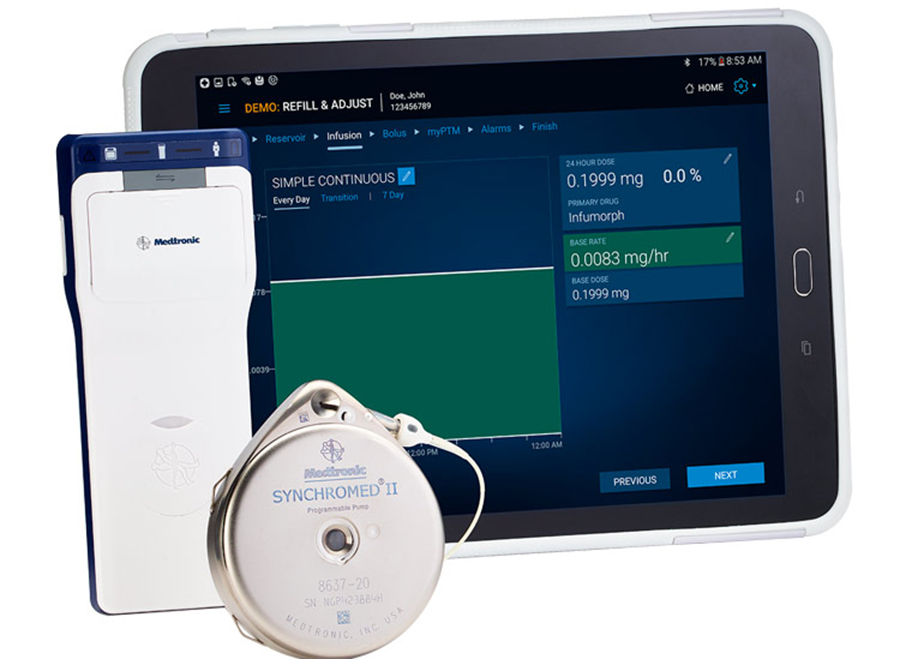 Medtronic has received FDA approval for its Implantable System for Remodulin (ISR) as a new treatment option for people with pulmonary arterial hypertension (PAH). The system consists of Medtronic's Synchromed II implantable drug infusion pump, an intravascular catheter, and United Therapeutics' Remodulin (treprostinil) Injection medication. United Therapeutics will lead the commercial promotion of the ISR, with Medtronic support.
Read more LifeSignals Gets FDA Clearance For Its Wireless LP1100 Life Signal Patch
PAH is a life-threatening condition that affects the arteries in your lungs and the right side of your heart, ultimately resulting in right-heart failure and premature death. You are more likely to get pulmonary arterial hypertension if you are a young female, since the idiopathic form of the disease occurs more often in women of childbearing age than in men.
"External infusion pumps have been used to deliver prostacyclins for PAH, but managing the therapy places a significant burden on patients, interferes with their daily activities, and runs a high risk of infections," said David Steinhaus, M.D., general manager of the Heart Failure business, part of the Cardiac and Vascular Group at Medtronic. "This fully implantable drug delivery system was designed to address these serious patient care concerns."
FDA approval was based on the DelIVery for PAH trial, a prospective, single-arm, non-randomized, open-label study conducted at 10 sites in the United States. It enrolled 64 patients (60 successfully implanted) and showed the implantable intravascular delivery system effectively delivered treprostinil, with a low rate of catheter-related complications, and a high rate of patient satisfaction.
About Implantable System for Remodulin
The Implantable System for Remodulin is designated to be used on adult patients with Class I, II and III pulmonary arterial hypertension (PAH) receiving intravenous delivery of Remodulin. During the crucial clinical trial for the Implantable System for Remodulin, 10% of patients experienced pump failures after 4 years of use. At least 33% of these failures resulted in the device failing to deliver Remodulin without corresponding error alarm. Patients who cannot tolerate a sudden cessation of Remodulin therapy may not be appropriate candidates for the Implantable System for Remodulin.
Read more New Technology From 3M Monitors Breathing And Helps You Improve Respiratory Health
About Medtronic
Based in Dublin, Ireland, Medtronic is among the world's largest medical technology companies – alleviating pain, restoring health and extending life for millions of people across the globe. In collaboration with leading clinicians, researchers and scientists worldwide, Medtronic offers the broadest range of innovative medical technology for the interventional and surgical treatment of cardiovascular disease and cardiac arrhythmias. The company strives to offer products and services of the highest quality that deliver clinical and economic value to healthcare consumers and providers around the world. Medtronic employs more than 86,000 people worldwide, serving physicians, hospitals and patients in more than 150 countries. The company is focused on collaborating with stakeholders around the world to take healthcare further.