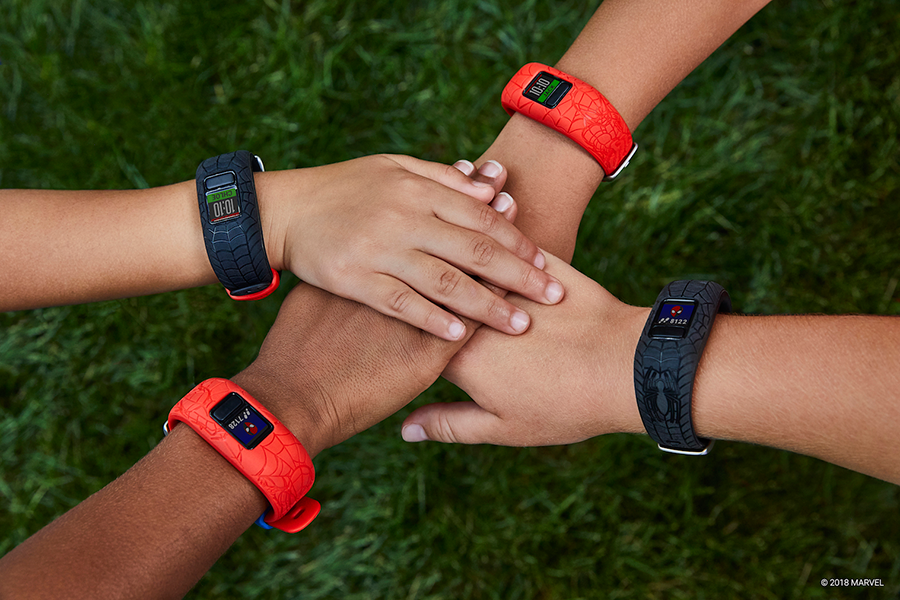 Smartwatch maker Garmin announced its fitness tracker for kids Vivofit jr. 2 with Marvel's Spider-Man themed bands and mobile app. Vivofit 2 is actually more than just a fitness tracker, it provides kids with an interactive experience where activity unlocks adventure, shaping habits for lifelong health and fitness.
Using a comic-book style Spider-Verse app, kids can look forward to crushing activity minute goals to unlock new adventures, gems, games and step icons. New York City comes to life with enhanced animations featuring fun fitness facts integrated into the story to further encourage building healthy habits.
Related The Octopus by Joy Is a Smartwatch that Teaches Kids to Follow Routine
The vívofit jr. 2 bands come in 2 ultra-durable, etched Marvel Spider-Man designs. They are swim-friendly, feature a customizable color screen, and boasts a battery life of over one year.
"The Spider-Man experience, both the band and the mobile app adventure, lets kids dive into the imaginary Super Hero world through physical activity," said Dan Bartel, Garmin vice president of global consumer sales. "With the vívofit jr. 2, kids get to 'Be the Hero' on the playground, and are incentivized to keep moving as their activity goals unlock new worlds within the Spider-Verse app experience. We're excited to add Spider-Man to our lineup of Disney, Avengers and Star Wars bands and app storylines."
A corresponding app adventure brings the Spider-Man vivofit jr. 2 to life and kids explore it with help from their parents.
In Web Warriors: A Spider-Man Adventure, kids soar high above the city alongside Spider-Man, fight Vulture with the help of unexpected allies, and track down the Green Goblin once and for all. The more they meet – and exceed – their activity goals, the more of the story they'll get to see.
The vivofit jr. 2 is a valuable tool for parents as well. The companion app3 acts as a parental personal assistant which parents can use in their compatible device to view their child's activity, assign chores, and schedule reminder alerts that show up on their child's device.
In addition to tracking steps, sleep and active minutes, kids can also use the vívofit jr. 2 to engage in friendly competitions with their friends and family. Toe-to-Toe™ step challenges let kids sync with nearby friends (or themselves) for timed step competitions. Parents can also play by downloading the Toe-to-Toe Connect IQ™ app to a compatible device.
Related With Fitbit Ace For Kids, Fitbit Now Has Fitness Tracker For Every Member of the Family
"With an all-new hit console video game and feature film – it's a big year for our favorite web-slinging Super Hero," said Kyle Laughlin, Senior Vice President, Games and Interactive Experiences, Disney Parks, Experiences and Consumer Products. "Marvel's Spider-Man is a great addition to our successful line of characters and stories that are inspiring kids to get active."
The vívofit jr. 2 is available for purchase at Garmin.com and has a suggested retail price of $79.99.