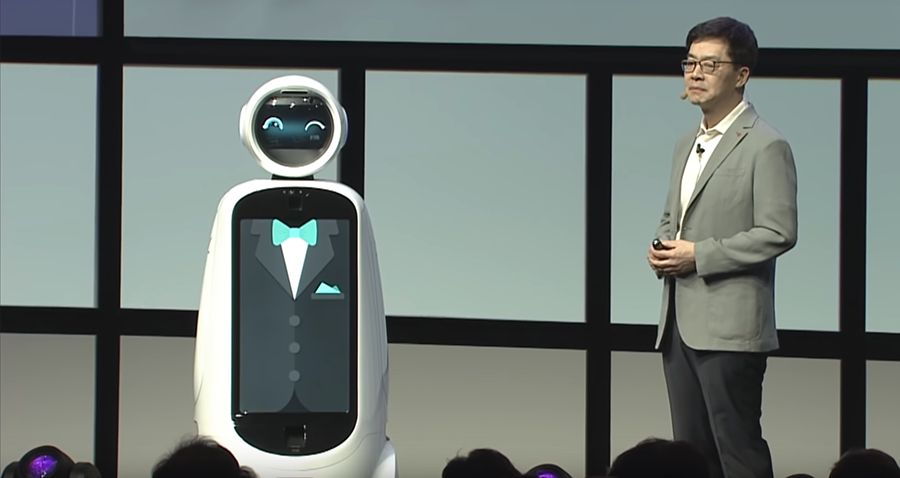 In a joint opening keynote at the IFA 2018 in Berlin, LG Electronics CEO Jo Seong-jin and CTO Dr. I.P Park outlined their vision for LG's ThinQ strategy for Artificial Intelligence.
This is the first time the company's top executives have delivered a keynote address at any major global exhibition. The speech marks a significant milestone for LG, showing how the company has earned its prominence in the world stage by being committed to stay at the forefront of AI development in the consumer electronics industry. More than 1,000 industry VIPs, influencers and journalists gathered in Berlin to hear LG's framework for the future of AI heard the LG executives' speech which was titled: Think Wise. Be Free: Living Freer with AI.
Related LG's New Exoskeleton or 'Wearable Robot' Promises to Give Users Superhuman Strength
In June, Messe Berlin Group executive vice president and IFA executive director Jens Heithecker said through the IFA Keynotes CEOs and top executives get a chance to express their forward-thinking ideas and strategies in a global media platform. "LG has been and continues to be a key global player in the field of artificial intelligence, which is why we are extremely pleased that Mr. Jo and Dr. Park will deliver the opening keynote at IFA this August," he said.
In his keynote, CTO Park explained the three key pillars of artificial intelligence: Evolve, Connect and Open.
CEO Jo is a 42-year LG veteran. In his keynote, he emphasized his company's underlying drive to provide consumers with a better life, which he defined as the increased availability of freer and smarter choices in everyday living. He said he firmly believed that advances in Artificial Intelligence are key to bringing new possibilities for a better life.
"Combined with edge computing and big data, as well as the ability to harness the enhanced connectivity of 5G, AI will bring each aspect of our lives into a seamless connected experience. Your home will know what kind of day you had in the office and will roll out the welcome mat by preparing the perfect environment for when you walk in the door," said Mr. Jo.
Dr. Park explained LG's methodology for the development of AI technology:
LG's focus on speech recognition, image recognition, biometric recognition and deep learning algorithms.
The benefits of seamless connectivity offered through LG's diverse product portfolio that make it possible to eliminate the traditional constraints of space and time.
The infinite potential offered through increased connectivity, using LG's robot vacuum cleaner as an example.
LG will be showcasing its extensive lineup of consumer electronics and robots equipped with the latest AI technologies in the LG ThinQ zones in the LG booth.
Related LG's New Wireless Tone Series Earbuds Have Dedicated Google Assistant Button
About LG Electronics, Inc.
LG Electronics, Inc. is a South Korean multinational electronics company headquartered in Seoul, South Korea, and is part of the LG Group, employing 82,000 people working in 119 local subsidiaries worldwide. LG is a global innovator in technology and manufacturing whose 2017 global sales was USD 55.4 billion. LG is comprised of five companies: Home Appliance & Air Solutions, Home Entertainment, Mobile Communications, Vehicle Components and Business-to-Business.