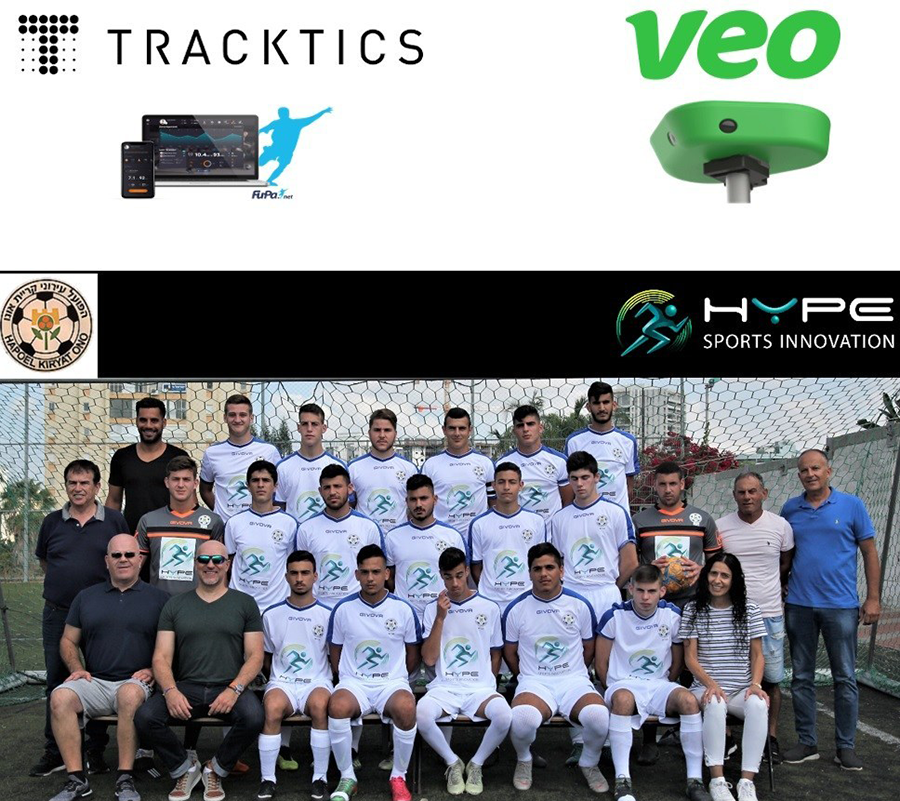 Hapoel Kiryat Ono, a small Israeli football club from a city of just 40,000 people, is the most technologically-orientated in the nation. With a senior team in Israel's 4th division league, the club engaged in a formal cooperation with HYPE Sports Innovation, an organization that is trying to impact people's lives through the power of sports and innovation, at the start of the 2018-2019 season.
Read more PLAYR, The World's First Soccer SmartCoach Wearable System Hits US Market
"There is a huge buzz in the air from both staff and players. People like sports and they like technology so the combination is a genuine thrill for all of us," said Hapoel Kiryat Ono Chairman, Yaniv Buchnik.
Two major sports-technology startups are already using HYPE Sports innovation on Hapoel Kiryat Ono's under-19 youth team. The first is Denmark-based VEO – an AI driven automatic camera that records, edits, streams, and even analyzes football matches and trainings without requiring human intervention.
"As an exceedingly affordable piece of equipment that helps us be on the same level with much bigger professional teams, VEO gives access to people that can't come to the stadium," said Buchnik.
The second sports-technology startup involved is Tracktics, who was speaking at the WT | Wearable Technologies Conference 2018 EUROPE in Munich. Tracktics is a best-in-class set of analysis and performance tools already in use by the Real Madrid Foundation, Eintracht Frankfurt FC and others. The device measures and transmits athletic performance data to a Smartphone for comparing past performance, opponents, and teammates in real time.
"I'm a past player of the club, so this was easy," said Amir Raveh, President and Founder of HYPE, who combined his dual passions for sports and innovation in founding his company. "I'm into sports because it reminds me of more innocent times, and frankly it's a real privilege to combine your passion with your work. I know how lucky those kids on the pitch are and we aim to make them feel even luckier."
Mr. Buchnik said his club is attracting more players and in the future they'll also produce better results on the field. "We are already eager to see what HYPE is preparing next for us," he said.
Read more U.S. Soccer Signs Over $1.5 Billion Wearables Deal With Irish Company STATSports
About Tracktics
TRACKTICS develops a system that enables football teams and players to track athletic performance data including distance, acceleration, and speed on the pitch. TRACKTICS' unique offering of a football wearable and data analysis is the first system of its kind, and accurately delivers valuable data, affordably, to players and coaches on every level.
About VEO
VEO sports camera uses revolutionary software that finds and always follows the ball to records the action automatically. Easy, affordable tool that can stream, record, edit and even analyze matches – everything without a cameraman.