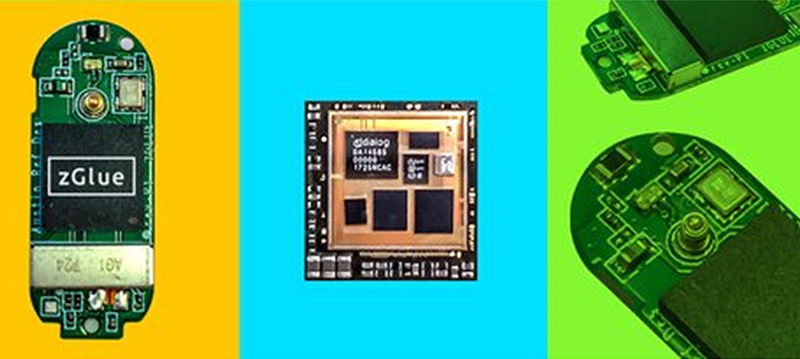 In the near future, people will create their own wearables. That's what zGlue, a Mountain View, CA-based startup believes. So, they created zOrigin – a chipset that allows you to create your own wearable device. The zOrigin aims at become a reference design and a way for anyone building a wearable device to have a starting point with basic elements.
zOrigin is a low-power, wireless wearable built with a reference design of chip-stacking technology. zOrigin is an example of zGlue's process being applied to create a custom product, and demonstrates the success of their technology. Not only can zOrigin be reprogrammed and adapted for various applications with our dev board, the same technology can be used for a ground-up custom solution based on your needs.
Read more MediaTek Introduces Helio P70 SoC with Enhanced AI and Premium Upgrades to Mid-Range Devices
zOrigin, a tiny self-contained chipset with an ARM Cortex M0 processor, has the key components of what would be in the average fitness tracker: accelerometer, heart rate monitor, temperature sensor, vibrating motor, LED, 25mAh rechargeable battery and Bluetooth LE radio.
Fitness Monitor
Out of the box, zOrigin is a compact, ready-to-use fitness monitor in a durable enclosure. All you need to do is download the phone app and you're good to go.
Integrate the Chip into Your Own Products
zGlue offers a complete dev board and reprogrammable chips, so that you can develop your own product based on the chip that powers zOrigin.
Design Your Own Chip
Using the same ZiP technology in zOrigin, you too can design and manufacture custom chips by contacting [email protected].
Read more Huami Launches New Amazfit Health Band 1S and Introduces the World's First AI-Powered Wearable Chipset Huangshan-1
Specifications
Heart rate monitor
Three-axis accelerometer
Steps count
Temperature sensor
Bluetooth
Mobile phone app
LED
Vibration motor
Enclosed in a 3D-printed plastic
25 mAh battery lasts 1-2 weeks on a single charge