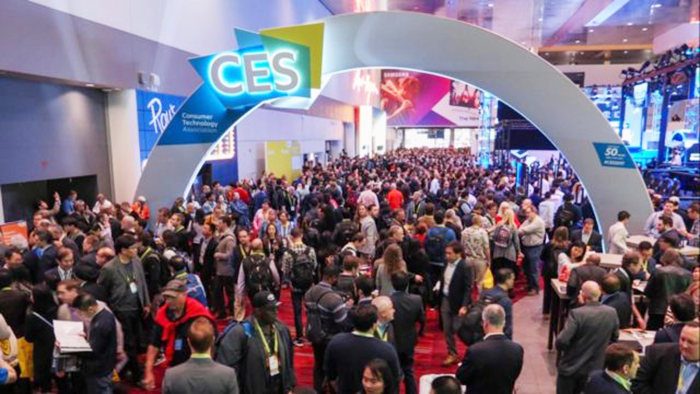 The Consumer Electronics Show, also known as CES is the tech industry's annual showcase of the best new gear and innovations for the year ahead. Over its 50-year history, CES has evolved from a stunning exhibition of innovative consumer gadgets, to a grand event that foreshadows future trends.
The CES attracts about 180,000 people from 155 countries, as well as 6,500 media. All the biggest tech companies in the world gather, 4,500 to be exact, except for Apple.
Related Five New Movesense Powered Wearables to be Showcased at CES 2019
The event takes place in Las Vegas in January each year. This year's event will run from January 8 to 11. Health tech and digital fitness will definitely take center stage this year.
Artificial Intelligence with voice control will also be big this year. Smart headphones and voice-controlled AR/VR headsets will be a hit. "A new Alexa development kit from Qualcomm means we'll see more integration of voice into headphones," says Jack Wetherill, Principal Consultant, Home Electronics at Futuresource. "We're waiting for headphones that respond to a wake-word, and while that probably won't emerge at CES 2019, we will see true wireless earphones with longer battery life – it would be logical if Sony brought more 'true wireless' products at CES."
Samsung has its fingers in more than one pie, and we wouldn't be surprised if the foldable Galaxy X makes its debut at this year's CES.
Among the health wearables, consumers will be more interested in smartwatches with blood pressure monitor and sleep tracking, Continuous glucose monitoring, smart patches and smartglasses.
Our CEO Christian Stammel will attend CES 2019 and also be part of the conference track Wearable Tech Summit on January 9. The perfect sneak peek on what will be awaiting you at the WT | Wearable Technologies Conference EUROPE 2019 which will give you a deep dive into the current momentum of the wearable market and how you can turn the previous hype into mass volume. Our 33rd edition of the WT Conference will be bigger than ever with more than 1.500 m2 floor space and over 80.000 visitors from WT and ISPO integrated into the brand new innovation hall C6 of the Munich Tradeshow. More than 60 high-level speakers coming from Bayer, BMW, Casio, Gore, Microsoft, and STMicroelectronics will give you the latest insights in their applications and digitalization strategies via IoT and WT solutions and drive your business development. In the afternoon of the first day, you will get also the chance to be connected to 30 future stars of our ecosystem via our annual IOT/WT INNOVATION WORLD CUP® pitch and award ceremony.
Register here https://www.wearable-technologies.eu/