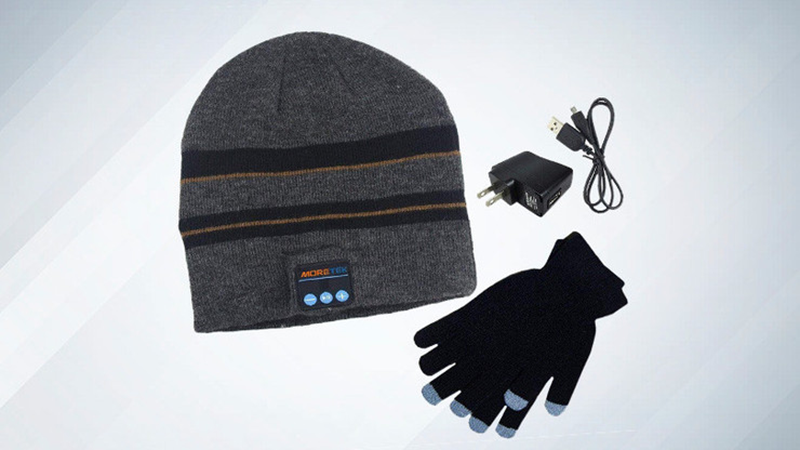 It's cold out there! Not just cold, the temperature is dropping well below zero. And when the temperature drops, it makes life more miserable. Simple commute to the office or just strolling on the sidewalk can be really treacherous. So, can the technology help? Sure, it can. The wearable tech isn't only to track your heart rate or blood pressure, it can help you stay warm and frostbite-free this winter. Here are 5 such wearables that can help you get through the winter with ease.
SKIINCore
SKIINCore is the new smart, discreet and wire-free heated base layer that keeps men and women warm in all the right places while ensuring flexibility and style. Designed by a team of engineers in Canada, SKIINCore features a conductive yarn to deliver impressive 18 watts of heating power from a sleek battery that snaps into the elegant docking station strategically placed at the midsection, so wearers will barely feel it – and generating heat an impressive eight hours when set on its lowest settings. The yarn connects to a 56g battery that holds 18 watts of heating power – enough to keep the fabric warm for up to eight hours. "Stretch it, touch it, and wash it—we guarantee you won't be able to tell where the thread ends and the tech begins. We knit our tech (including the heating elements!) right in between the sweat-wicking synthetic inner layer and the heat-trapping wool outer layer," the company said.
Mercury Intelligent Heated Jacket
Boston-based Ministry of Supply has developed a new smart heated-jacket – called the Mercury Intelligent Heated Jacket – that can provide the wearer with the perfect amount of warmth from one environment to the other. The smart jacket is equipped with sensors that can detect the outside temperature and uses thin carbon pads to regulate the heat in the jacket. The cool aspect of this jacket is that it is controlled by voice through a smart assistant e.g. Alexa or even Google Assistant. Moreover, the voice feature uses machine learning and allows the user to preheat the jacket whenever needed, which means: the jacket will be ready and warm so that you can step out into the frosty air without second thoughts!
Hand Warmer
Hand warmer is a pebble-shaped wearable that slips easily into your pocket and can be turned on for a blast of heat when you need it. With 2 settings offering you a choice between 3 and 6 hours of warmth, the device can be charged from the wall outlet, or a USB cord allowing you to plug into a PC at work to recharge. The underside of the device heats up quickly and it's perfect for warming your hands as you wait for a bus or train.
Related KJUS Develops World's First Sweatless Ski Jacket with HYDRO_BOT Technology
Moretek Bluetooth Beanie and Gloves
Shoveling snow can be a precarious work. Listening to music might make the work more enjoyable. But what if you don't want to carry your smartphone along while shoveling snow? Not to worry, Bluetooth Beanie and Gloves are here. Simply connect your smartphone wirelessly and listen to music without having to bother with headphones. This smart hat will get the job done when you're out there shoveling your car out of a snowbank. As an added bonus, you'll get a pair of touch-screen-friendly gloves, too.
OR Storm Tracker Gloves
Outdoor Research's Storm Tracker Gloves provide great dexterity in a weatherproof shell. That alone makes the gloves winners, but the electric heat system makes them ideal for adventure in the winter. The smart glove is powered by rechargeable batteries. The 3-setting system drives out the cold for up to 8 hours on low power.