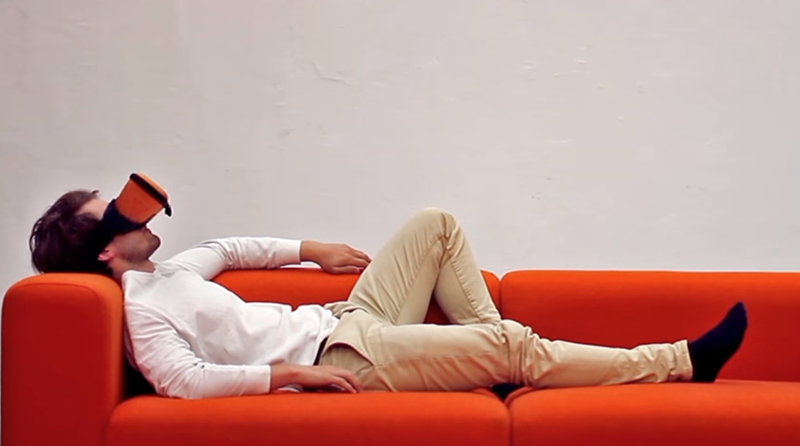 MovieMask, developed by a Norwegian startup, is a wearable headset that lets you enjoy movies anytime and anywhere. The company does not want to call it a Virtual Reality headset but instead describes it as a portable cinema.
Why MovieMask?
There is something unique about the experience you get from the MovieMask and its awesome portability and ease of use. There are many ways of watching movies and TV shows. While smartphone displays are improving all the time they won't give you the same immersive feeling as you get in a movie theatre. With MovieMask you can now use your smartphone to get the cinema experience at home on the sofa, in the park, at the bus or while flying.
Read more London National Theater Launches Smartglasses With Live Subtitles for the Hard of Hearing Show-Goers
Founded in May, 2016 by two Norwegians Eirik and Harald, the company launched a crowdfunding campaign for its first product the "MovieMask 1.0" in September of the same year.
The duo says after watching Quentin Tarantino's Hateful Eight in a cinema in San Francisco, they were amazed by the cinema feeling. They started thinking about how todays media consumption is more and more mobile driven. So, they decided to develop a device that will let you enjoy movies anywhere you go.
The MovieMask team consists of entertainment engineers from Trondheim, Norway and they're determined to make fun and engaging products that are easy to use.
Featuring revolutionary lens technology, this device gives you a full-resolution movie theater experience on the go. MovieMask is ideal for enjoying a movie while relaxing. The device gives you 4 time the resolution of Virtual Reality with a crystal-clear picture.
Read more This Interactive Movie Will Change Depending on Your Brain Activity
The padding gives your face a comfortable feel and sits comfortably on your face. You can customize the distance between the display and the lens if you need a longer focus distance. MovieMask is compatible with most smartphones and allows you to enjoy any content from any app.
The company says they have delivered over 10,000 MovieMasks to date.