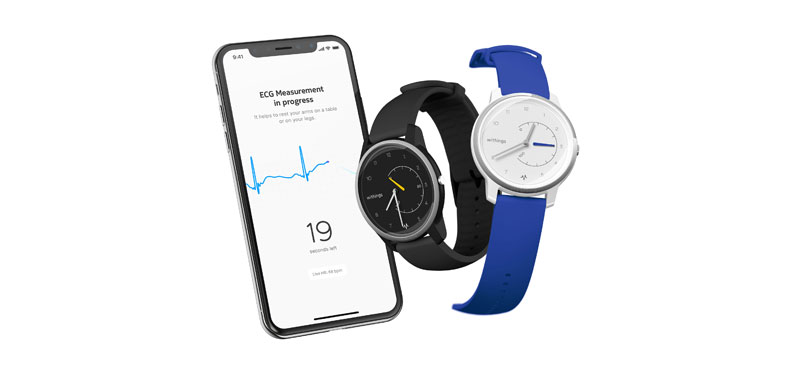 Withings catches up to Apple with ECG smartwatch at the CES 2019. The Withings Move ECG is the first analog watch with ECG functionality and it will be very affordable. The Withings Move ECG will be released in Q2 of 2019 for $129.95.
Withings' Move ECG brings a new level of heart monitoring to the traditional analog watch with its ability to take an electrocardiogram on-demand to help detect AFib, the most common heart arrhythmia. AFib is a serious form of irregular heart rhythm that can lead to fatigue, shortness of breath and heart failure. It is also known to be a major risk for stroke.
Move ECG includes three electrodes to ensure measurement accuracy. Two electrodes are discreetly integrated inside the main body of the watch, and the third electrode is in the stainless steel bezel of the watch. When users experience symptoms such as palpitation, they simply need to touch both sides of the bezel to start recording anytime and anywhere. After less than 30 seconds of measurement, Move ECG vibrates to notify users that the reading is complete. It then syncs automatically with the Health Mate app, which displays whether the heart is beating in a normal pattern or whether there are signs of AFib.
In case CES is too overwhelming with its 4,500 exhibitors across 2.75 million net square feet of exhibit space, the next wearables event is just a few weeks later. At the WT Wearable Technologies Conference Europe 2019 in Munich, you can connect with Christian Stammel in a much more focused setting. The conference and expo is the must-attended annual meeting for global professionals of the entire wearable ecosystem.
More than 60 high-level speakers coming from Bayer, BMW, Casio, Gore, Microsoft, and STMicroelectronics will give you the latest insights in their applications and digitalization strategies via IoT and WT solutions and drive your business development.
The conference details and tickets for the WT Wearable Technologies Conference Europe 2019 in Munich are available on wearable-technologies.eu.