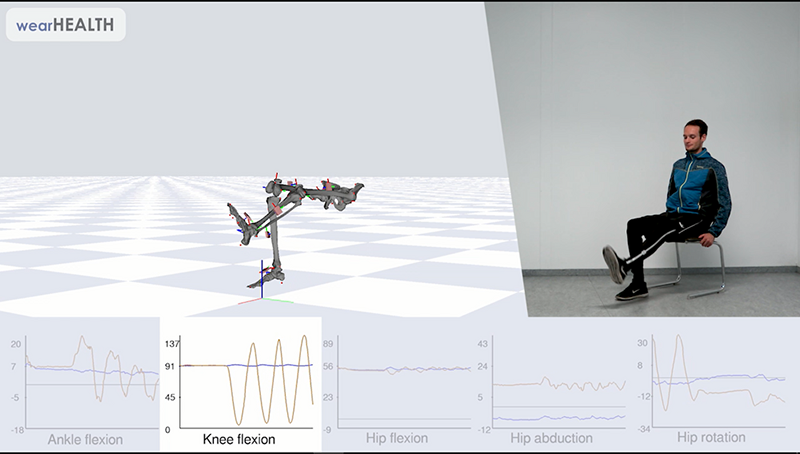 Xenoma, a Japanese electronics and wearables manufacturer, WearHEALTH, a research group from Technische Universität Kaiserslautern (TUK), and the German Research Center for Artificial Intelligence (DFKI), have jointly created smart clothes with highly-developed motion capturing technology which brings wearable sensorics close to various applications in sports, health and industry.
Related Top 5 Smart Clothes for Workout Freaks in the Market Right Now
Xenoma's e-skin smart apparel, in combination with wearHEALTH's and DFKI's software technology create one of the most advanced motion capture solutions demonstrated to date. The innovate concept was presented at the CES 2019 in Las Vegas, said a new release.
"Xenoma's hardware represents a perfect integration of sensor technology into clothing, so that intelligent technologies can actually be worn like ordinary everyday clothing," said Dr. Gabriele Bleser, head of wearHEALTH.
The system includes sensor calibration and magnetometer-free motion capturing algorithms from DFKI and wearHEALTH and combines it with Xenoma's e-skin smart apparel which can be used in everyday life. This enables a variety of applications in rehabilitation, sport, work safety and wherever detailed and robust motion capturing is required.
"Unlike many others, wearHEALTH kept developing their tracking algorithms magnetometer-free in order to be applied in the actual use cases. I am convinced that this collaboration provides a great usability for industry users," said Ichiro Amimori, Co-Founder & CEO of Xenoma. "Xenoma's e-skin is developed to be used in a daily life. The technology of wearHEALTH and DFKI allows us to insightfully help athletes, persons under rehab and factory workers."
Related Puma is Bringing Back its 80s Smart Shoe with Updated Technology
Our CEO Christian Stammel will attend CES 2019 and will give the perfect sneak peek on what will be awaiting you at the WT | Wearable Technologies Conference EUROPE 2019, which will give you a deep dive into the current momentum of the wearable market and how you can turn the previous hype into mass volume. Our 33rd edition of the WT Conference will be bigger than ever with more than 1.500 m2 floor space and over 80.000 visitors from WT and ISPO integrated into the brand new innovation hall C6 of the Munich Tradeshow. More than 60 high-level speakers coming from Bayer, BMW, Casio, Gore, Microsoft, and STMicroelectronics will give you latest insights in their applications and digitalization strategies via IoT and WT solutions and drive your business development. In the afternoon of the first day, you will get also the chance to be connected to 30 future stars of our ecosystem via our annual IOT/WT INNOVATION WORLD CUP® pitch and award ceremony.
Register here https://www.wearable-technologies.eu/ with 20% discount by using the code WT20