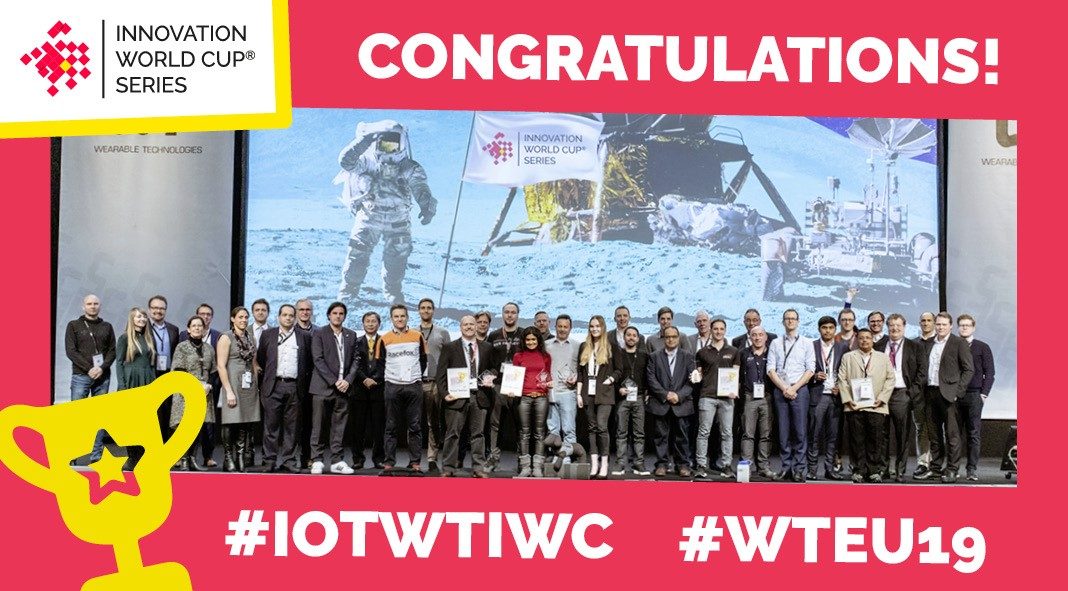 And the Innovation World Cup® goes to….
28 international wearable tech and IoT innovators were part of the thrilling finals of the 10th IOT / WT Innovation World Cup® on February 5th at the 33rd WT | Wearable Technologies Conference 2019 in Munich. Selected out of more than 500 submissions from over 45 countries by the international expert jury, they are the top techpreneurs to watch out for in 2019.
With over 15 years of successful competitions, the Innovation World Cup® Series is the most established tech open innovation platform worldwide supported by the partners STMicroelectronics, Gore, EBV Elektronik, Würth Elektronik, Gemalto, AiQ Smart Clothing, VARTA Microbattery, Microtronics, and Cicor.
And here are the lucky winners of the categories Industry, Healthcare, Sport & Fitness, Gaming & Lifestyle. Additionally, the winners of the Gore Innovation Center Prize, the EBV IOT HERO, the Gemalto Trusted Connectivity Award and AiQ Smart Clothing Special Prize were announced.
Top Innovator Industry
Viewpointsystem with their solution Digital Iris (Austria)
VPS 19 is the first wearable technology combining eye tracking with a XR-display element. Measuring and interpreting eye activity in real time and in real life, the glasses enable a new human-centered and bi-directional interaction between man & technology. Using the disruptive "Digital Iris" technology, VPS 19 is able to read intentions and actions from the eyes in real-time and to provide the right display information at the right time. In addition, the user can interact with the elements displayed simply using eye gestures instead of hands or voice. www.viewpointsystem.com
Top Innovator Healthcare
Elvie with their Elvie Pump (United Kingdom)
Elvie Pump is the world's first silent wearable breast pump. A complete departure from existing pump technology. The truly hands-free pump gives women the flexibility to go about their daily routine while pumping, without worrying about cords, wardrobe changes or the undignified sound of a traditional electric breast pump. www.elvie.com
Top Innovator Sport & Fitness
onTracks with their smart GuideWatches (France)
GuideWatches is the first multi-use connected navigation system putting humans back at the center of the experience. No more stopping to find your way: wear onTrack's two GuideWatches – one on each wrist – their vibrations will guide you. onTracks makes it easier to get guidance on new routes, when you are running, biking or hiking. www.ontracks.co
Top Innovator Gaming & Lifestyle
Future Wave with their personal safety system Start MATE (India)
Star MATE is a personal safety system that consists of a wearable device and a mobile app discrete, easy to use and accessible. With Start MATE, users in danger can discreetly call for help with their real-time location flashed to family and friends and local police, just by a single finger tap. Star MATE also crowdsources danger spots and creates a heat map to identify these spots worldwide. www.futurewave.in
GORE Innovation Center Prize
The game changer getting two weeks of access to the state-of-art Gore Innovation Center in Silicon Valley, access to advanced materials and advice from leading tech experts is:
Biobeat Technologies with Biobeat, the medical smart monitor (Israel)
Biobeat is the non-invasive medical device monitor that can detect and measure more than 20 vital signs. The information is transmitted real time to the cloud, and can be displayed and shared with your physician, control centers and family members. All the data, including history graph, can be reviewed on the consumer app and on the multi patient management system. This solution helps to improve the medical treatment inside but also outside hospitals www.bio-beat.com
EBV IoT Hero
The chance to work with EBV's StartmeUp team and a cash-prize of 10.000€ goes to:
Arion with their smart insoles for running shoes (the Netherlands)
ARION provides a solution, bringing the coaching experience to the world of wearables through innovative ultra-thin smart insoles and an advanced AI coaching engine that makes cutting edge exercise sciences accessible to all runners. ARION guides users to improve their running technique sustainably, helping to reduce the risk of injury and improve performance so they can stay active, and run longer, safer, and further. www.arion.run
Trusted Connectivity Award by Gemalto
Support and advice of the experts in the field of trusted connectivity are offered to:
Uniberry with their connected device for building access management Cido (Germany)
Cido offers flexible access management for apartment buildings without physical keys or transponders. Instead, barcodes are used, which are either already present (e.g. on parcels for shipment tracking) or can be generated on demand to integrate them into documents or ID cards. Deliverers scan the barcode of a parcel at the building's main entrance and Cido turns the shipment itself into a temporary key. www.cido.io
AiQ Smart Clothing Challenge
Support in transforming the prototype into mass production and aiming at high volumes goes to:
Kineto Tech Rehab with their motion tracking sensors innovating physical recovery Re.flex (Romania)
Re.flex enables innovation in healthcare, targeting patients, healthcare providers and insurers. The solution is used for physiotherapy covering the most common injuries & surgeries of the knee and hip. Re.flex reduces uncertainty and increases patient motivation to train, thus improving the quality and quantity of training and monitoring. www.reflex.help
Public Favourite
However, everyone's voice counted, and another highlight of the award evening was the announcement of the winner of the public voting. More than 2300 votes went to the public vote winner:
Rajmall Inventives, and their innovative Xenxo S-Ring, the smart ring for safety (India)
The Xenxo S-Ring is the wearable offering you not only an SOS-call function but a full range of functionalities. It takes calls directly and talk privately, stores your important files, changes music right off the finger, makes payments on the go, keeps track of the fitness goals, make quick calls to favourite contacts, reminds if you forget your phone, call for help without alerting the stranger (SOS), access doors with Bluetooth key, and more. www.rm-i.com
The wearable tech and IoT innovators 2019 will now be part of the glorious Innovation World Cup® Hall of Fame and will be supported throughout the year by the Innovation World Cup® and industry partners to make their innovation visible to the world.
Do you want to participate in the next edition, the 11th Innovation World Cup® Series? The registration is already open, and solutions can be submitted for free at www.innovationworldcup.com