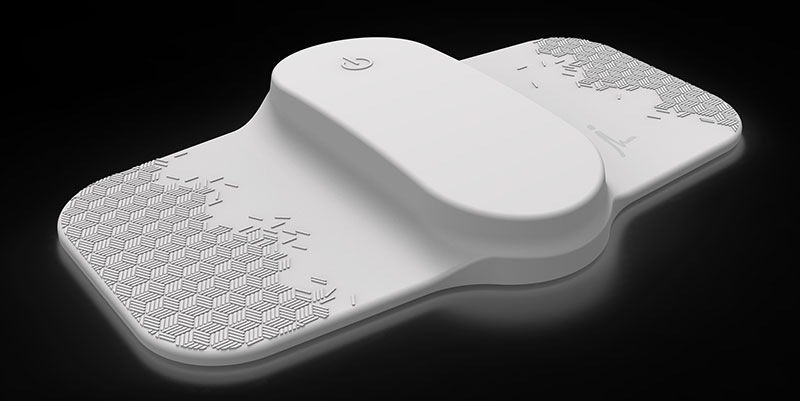 Theranica, a Netanya, Israel-based bio-medical technology company received FDA De Novo request for its smartphone-controlled wearable device Nerivio Migra®, which uses Remote Electrical Neuromodulation for acute migraine treatment.
Migraine affects approximately 14.7% of the world's population, making it the third most common disease in the world.
Related 4 Wearables to Fight Migraine
However, physicians who treat people with migraine are both patient-centered and science-driven. Doctors use medicines like Triptans and Ergots for acute migraine treatment. But there's a huge need for new treatments for migraines when these medications are not effective, are contra-indicated, or have non-tolerable side effects.
"The clinical data of this innovative therapeutic device is of very high quality," commented Professor Messoud Ashina, Danish Headache Center, president-elect of the International Headache Society. "It indicates that the device can provide patients with significant relief of pain and other migraine symptoms without the side effects presented by drugs."
The de novo classification by FDA works as an alternative means of classifying low- to moderate-risk devices. Therefore, devices that are classified through the de novo process may be marketed and used as predicates for future 510(k) submissions.
FDA's authorization of Nerivio Migra was based on the results of a prospective, randomized, double-blind, placebo-controlled, multi-center pivotal study, where 252 patients from 12 clinics used the non-invasive wearable to treat their migraine attacks, says a press release.
"This study followed the latest edition of the guidelines from the International Headache Society for controlled trials of acute treatment of migraine attacks in adults," said Dr. Brian Grosberg, MD, director of the Hartford Healthcare Headache Center in Connecticut, who served as the lead Principal Investigator (PI) of the study. "The results of the study demonstrate a high efficacy ratio for single as well as multiple attacks, both at two and 48 hours after treatment," explained Dr. Grosberg, who was a co-author of an article describing the study, released earlier this month in the journal Headache.
The device is placed on the upper arm (not the head or neck) and uses smartphone-controlled electronic pulses to create a Conditioned Pain Modulation (CPM) response. Nerivio Migra® is designed for acute treatment of migraine with or without aura in adult patients who do not have chronic migraine.
Related NeuroMetrix Introduces Quell 2.0 Wearable AI Pain Relief Technology
Alon Ironi, CEO and Co-founder of Theranica said his company is committed to expanding the use of remote electrical neuromodulation therapy for additional indications. "We have identified at least 7 different painful conditions that may be relieved by this non-invasive, drug-free technology after appropriate clinical development," Ironi said.
WT | Wearable Technologies Conference in San Francisco on July 9-10
The most innovative wearables event will be back on July 9-10 in beautiful San Francisco at SEMICON West to celebrate the 34th edition of the WT | Wearable Technologies Conference Series. Topics include data analytics in professional sports, prevention, treatment and rehabilitation with wearables, the future of digital health, medication and adherence, smart patches, workflow optimization and workforce safety and much more – featuring international leaders and experts of the wearables industry´s biggest names including Abbott, Autodesk, Datwyler, Kopin, Maxim Integrated, Multek, NFLPA, Omron, SharkDreams, Qualcomm, and many more. Register now to be part of #WTUS19