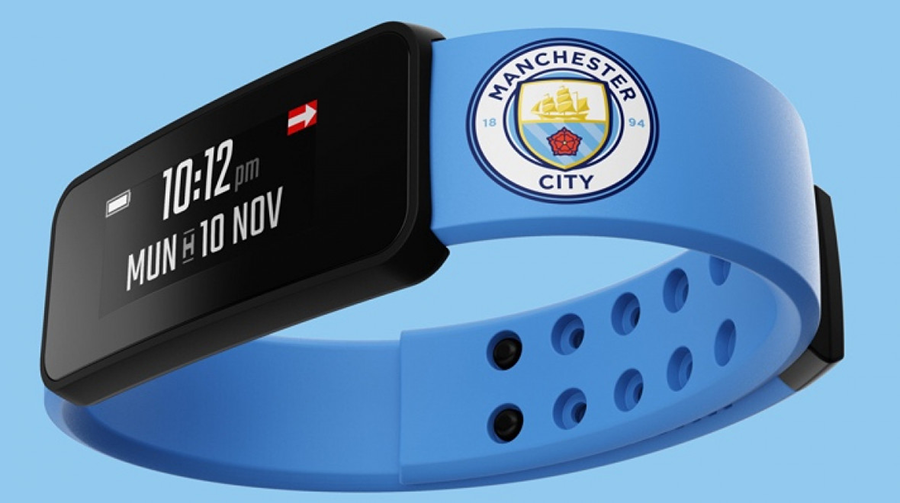 English Pemier League champions Manchester City have launched an artificial intelligence-powered wearable smartband called Fantom in collaboration with Swedish start-up Turnpike Group.
Read more U.S. Soccer Signs Over $1.5 Billion Wearables Deal With Irish Company STATSports
The football smartband, priced at £80 ($103), will be primarily based on content from Manchester City with a huge collection of special features, including live match reporting, 24/7 inside information, updates, real-time match stats, breaking news, fan polls and quizzes.
The Fantom is also being claimed as a football first that will help in seamless ticket distribution and payments during the home games in Etihad stadium, reports Inside Sport.
If you're a City fan you can grab one of these bands and you'll regularly receive match stats, news, club information, enter quizzes and do more from your wrist.
The Fantom Smart Band also has near field communication (NFC) capabilities, meaning it can double as your season ticket allowing you an easier access to the ground; you don't have to reach in your pocket to pay for your half-time snack. The tech will also detect when other City fans are nearby to help 'spark new connections'.
"Fantom is an instant tribe telegraph on your wrist, making you feel connected to everything happening around the club. For clubs, it's incredibly exciting because it enables them to understand and reach their most loyal fans in a completely personalized way, without cannibalizing existing sales, relationships or channels," said Fantom co-founder Carl Norberg.
The smartband is packaged in a premium aluminum housing and it features a touch display and soft silicone straps. The full release of the smartband 'fan-tech' platform follows a soft launch earlier this month that sold out within days of its release.
"Every part of Fantom is designed from the ground up. Everything is custom made, from the chipsets and industrial design to the operative system and the innovative user experience with the sole focus of creating a unique fan experience. We see an enormous potential for the platform," said Fantom co-founder Björn Ögren.
Read more Nexus Uses Revolutionary Tracking Technology for CrossFit Athletes to Quantify Their Workout
The team behind this new platform is looking at adding more features in the future with a big emphasis on AI to offer more personalized content for individual wearers.
The iOS and Android-friendly wearable is available to buy from getfantom.com .