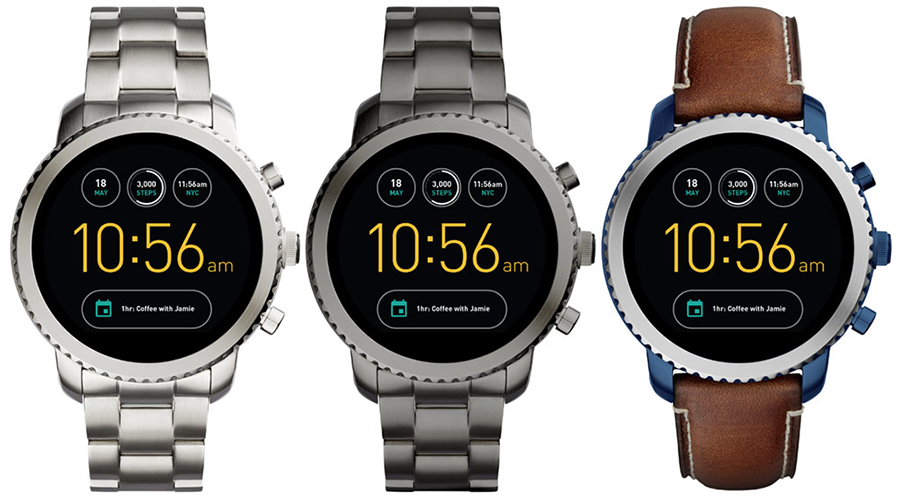 Fossil's Q watch line, is a so-called "hybrid" watch, something that's not entirely "smartwatch," but provides more functionality than a typical analog timepiece. Barely larger than a regular watch and without any LCD display, the watches convey information the old-fashioned way – by pointing mechanical arms at numbers.
Read more BMW to Launch Smartwatch Collection in Partnership with Fossil in 2019
However, Fossil's latest generation of Q hybrid watches are different. Instead of giving you the worst parts of both devices, it delivers most of the best from each. The Fossil Q Venture HR and Fossil Q Explorist HR, add a great deal of Android Wear functionality to a watch that is reminiscent of Fossil's earlier, simpler watches. In other words, these are some nice, low-cost smartwatches for the fitness fan, according to TechCrunch.
As fossil expanded into wearables, they took the Android Wear route and produced a range of lower-powered touchscreen watches. Now, with the new chipset, the watch
maker is able to add a load of functionality in a nice package. The Venture and the Explorist adds untethered GPS, NFC, heart rate and 24-hour battery life. It also includes an altimeter and gyroscope sensor.
The new watches are powered by Qualcomm Snapdragon Wear 2100 chip, an optimized chipset for fitness watches. Prices start at $255.
It comes in multiple styles and with multiple bands. They feature 36 faces, including health and fitness-focused faces for the physically ambitious. It allows you to pay with Google Pay; Apple Pay isn't supported at the moment. You can also store content on the watch for runs or walks. This waterproof watch also tracks your swim. The Venture and Explorist are 40mm and 45mm, respectively, and the straps are interchangeable.
Read more Emporio Armani Announces Connected 2018 With GPS, HR Tracking and Payments
If you want an attractive smartwatch to use with an Android phone that will blend in at work or play at an affordable price, we don't think you'll find a better option than the Fossil Q Explorist. They may not be masterpieces, but they look and work pretty good.