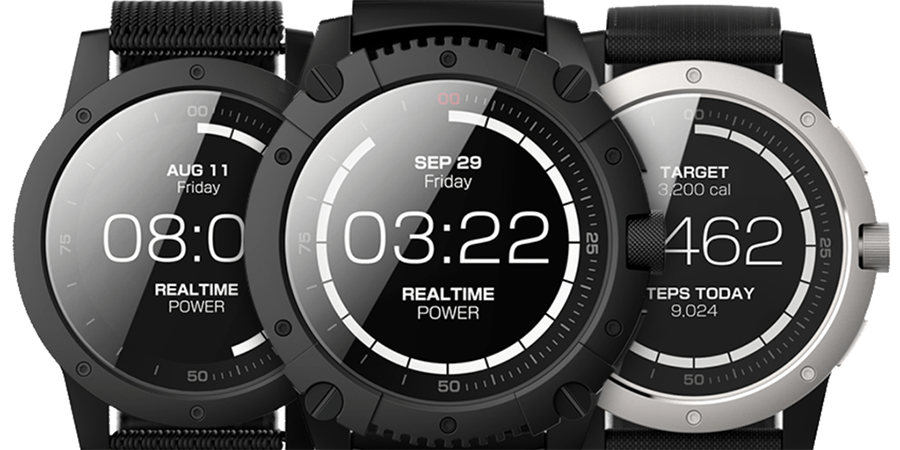 Wearable tech companies are working on better ways to power and charge your devices. Some companies have developed flexible, bendable batteries while others are working on tiny batteries that can run for months without charging. However, sooner or later you'll need to recharge these batteries. What if there was a wearable device that never needed charging?
Read more Scientists, Designers Exploring Ways to Produce and Manage Energy in Wearables
With that in mind, A California-based company called Matrix is trying a different approach with its PowerWatch X. The Matrix PowerWatch X uses your body heat to charge, meaning as long as you're wearing the device, it's getting juiced-up. The watch uses the difference between skin temperature and the outside air to generate a current that activates and charges everything.
There's a power meter in the PowerWatch that displays how much electrical power the wearer is generating. The watch never needs to leave your wrist for charging. If you take it off your wrist, it saves its data and goes into sleep mode running on battery power.
Like its predecessor PowerWatch, the PowerWatch X uses a basic Sharp monochrome LCD memory display that minimizes power consumption, but it reduces visibility. In a dark room it can be hard to read, and the included backlight is so dim that it really only improves the viewing situation when you're trying to look at the watch in complete darkness.
The PowerWatch uses its thermoelectric technology to measure calories burned, activity tracking, and sleep.
A Bluetooth connection to a free smartphone app allows the PowerWatch X to sync fitness-tracking stats like how many steps you've taken and how far you've walked. The developers of the PowerWatch also claim it does a particularly good job at estimating how many calories you burn, using measurements of your own fluctuating body temperature. But the PowerWatch may disappoint the fitness buffs because of the lack of a built-in heart rate monitor, as the back of the watch is instead dedicated to harvesting your body heat.
The Powerwatch X will buzz to indicate incoming calls, text messages and email. But, the large display doesn't show actual messages, just an icon that a message came in. This renders the idea of watch notifications useless.
Read more Google Coach AI Assistant for Smartwatches May Help You Get in Shape
PowerWatch X measures 50 mm wide and 13.5 mm thick. Both PowerWatch and PowerWatch X have a 1.2-inch display, Android/iOS connectivity, LED backlight, and an Ambiq Apollo MCU.
The watch is also water-resistant up to 200 meters, which at least means it's pool-friendly. But it won't track swimming.
The PowerWatch X retails at $280.