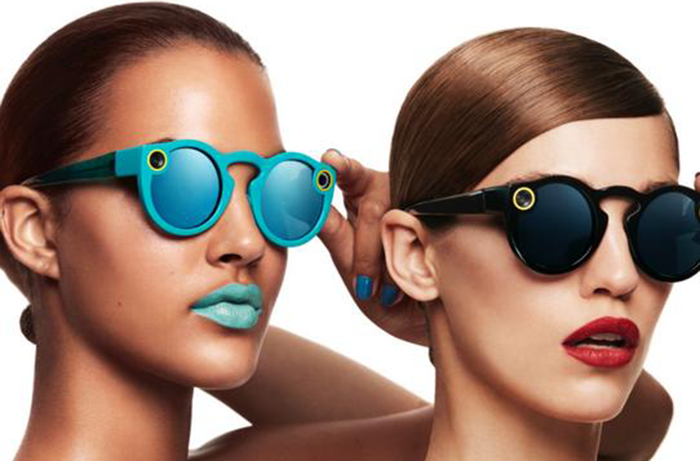 Tencent, the Chinese social media giant, known for its messaging app WeChat, is launching video-recording sunglasses, called Weishi smart glasses that looks very much like the US-based social media Snap's "face-camera" Spectacles gadget.
Produced by Shenzhen-based company called Tonot, Tencent's Weishi glasses come with a camera in the front corner which enables users to film from a first-person perspective.
Related Snapchat Launches New Spectacles 2 Camera Glasses that You Can Actually Wear
In July, Tencent-backed company called Kuaishou launched its own video-taking sunglasses.
Snap's Spectacles haven't exactly done well in sales. The company lost nearly $40 million in unsold pairs of Its first generation spectacles. Unlike the first generation Spectacles, the Weishi glasses don't highlight the camera with an odd yellow ring. Instead, they're all black, with a subtle cat eye, more like the second generation of Spectacles.
Tencent has been an investor in Snap for some time after backing it long before it went public. But, when others have criticized the company and its share price struggled, Tencent doubled down. It snapped up an additional 12 percent stake one year ago and it is said to have offered counsel to Snap CEO Evan Spiegel on product strategy.
The purpose behind Tencent's new gadget is understood in its name. Weishi, which means "micro videos" in Chinese, is also the name of the short-video sharing app that Tencent has been aggressively promoting in recent months to catch up with market giants TikTok and Kuaishou .
In November last year, it was disclosed by Snap that Tencent had raised its stake in the company. The additional investment came even as the Snapchat messaging platform operator had disappointed Wall Street with its quarterly results.
Tencent president Martin Lau told Snap his company is excited to deepen its relationship with the US company, and that it looks forward to sharing ideas and experiences, according to a Snap regulatory filing.
Related Snapchat's New Feature Lets You Take a Photo of an Item to Buy it on Amazon
Alongside the smart sunglasses, Tencent has also rolled out a GoPro-like action camera that links to the Weishi app. Whether the gadgets will catch on and get more people to post on Weishi remains to be seen.
Tencent's smart glasses will be released for sale on November 11, which is Alibaba's Singles Day, a large shopping event in China. The price is yet to be announced.