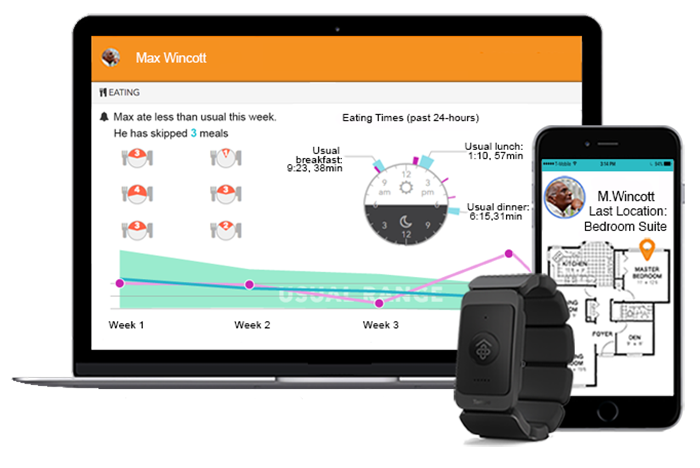 CarePredict, an AI-driven digital health company that is on a mission to develop technologies that can provide high-quality senior care, has been selected as one of the five companies to win the Consumer Technology Association (CTA) Foundation's Accessibility Contest at CES 2019.
Launched in 2012, the CTA Foundation is a national organization with the mission to link seniors and people with disabilities with technologies to enhance their lives.
CarePredict is the first-to-market with an end-to-end AI-powered solution that predicts the onset of health conditions including fall risk, depression, and urinary tract infection (UTI) by continuously monitoring the daily activities and behavior patterns of senior adults. CarePredict will showcase their solutions at Booth 52334, Tech West, Sands Expo, Level 1, Hall G. CarePredict's CBO, Jerry Wilmink will present at the Artificial Intelligence Conference Track – "AI Enabling the Human" panel discussion on the promise AI and technology holds to improving senior care, said a press release.
"CTA Foundation's Accessibility award is a validation of the importance of technology in enabling independence of people of all ages and we are honored to be recognized as one among the five breakthrough technologies improving senior care," said Satish Movva, CEO and Founder, CarePredict.
Related AI-Powered Digital Health Company CarePredict Inks Multi-Year Agreement with SRI Management
CarePredict employs lightweight sensors and wearables, designed for seniors, to unobtrusively and autonomously collect rich data sets on the senior's activities and behaviors. Machine learning and unique kinematics algorithms are used to quantify activities performed by the senior. These unique data sets are used to train CarePredict's deep neural network to surface insights such as signs and symptoms of self-neglect indicative of depression, unusual toileting patterns indicative of a urinary tract infection (UTI), or increased fall risk due to malnutrition, gait changes, lack of rest, and dehydration. All of these insights are generated without any self-reporting by the senior and without the need for an in-person observation.
"CarePredict is an example of how technology is enabling people to stay safe and secure in a non-intrusive manner," said Stephen Ewell, Executive Director, CTA Foundation. "We are excited to have CarePredict as one of the CTA Foundation's Eureka Park Accessibility winners at CES 2019 for their technology's benefit to older adults."
Our CEO Christian Stammel will attend CES 2019 and also be part of the conference track Wearable Tech Summit on January 9. The perfect sneak peek on what will be awaiting you at the WT | Wearable Technologies Conference EUROPE 2019 which will give you a deep dive into the current momentum of the wearable market and how you can turn the previous hype into mass volume. Our 33rd edition of the WT Conference will be bigger than ever with more than 1.500 m2 floor space and over 80.000 visitors from WT and ISPO integrated into the brand new innovation hall C6 of the Munich Tradeshow. More than 60 high-level speakers coming from Bayer, BMW, Casio, Gore, Microsoft, and STMicroelectronics will give you latest insights in their applications and digitalization strategies via IoT and WT solutions and drive your business development. In the afternoon of the first day, you will get also the chance to be connected to 30 future stars of our ecosystem via our annual IOT/WT INNOVATION WORLD CUP® pitch and award ceremony.
Register here https://www.wearable-technologies.eu/