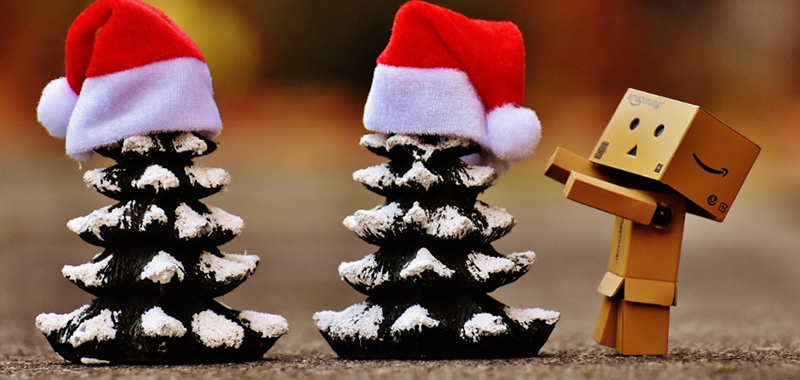 It doesn't feel like Christmas until you have the Christmas socks (or in this case, smart socks) hanging on the fireplace. After you've finished hanging the smart socks it's time for Santa Claus to fill up those socks with smart gifts. Here are 5 such wearable gifts for you and your family this Christmas.
Polar Vantage V
The Polar Vantage V smartwatch – which is the successor to Polar's V800 – incorporates the new Precision Prime heart rate technology that uses 9 optical sensors in 2 colors and wavelengths to extract data from different layers of the skin. Skin contact sensors allow Polar to achieve reliable heart rate measurements which are accurate and timely. The buttons and touchscreen interface are of the best of both worlds.
Price: $500
Vuzix Blade
Vuzix Blade AR smart glasses provide a wearable smart display with a see-through viewing experience utilizing Vuzix's proprietary waveguide optics and Cobra II display engine. It's like having your computer or smartphone screen information with you wherever you go.
Never before has a product been designed where you can see overlaid information, indoors or out, such as patient data, mapping directions, restaurant menus, weather information, alerts and more without picking up a second screen. Truly revolutionary, Vuzix Blade AR smart glasses are a perfect companion to a smartphone, allowing users to interact with their phone hands-free. Finally, fashion meets technology in the wearable display arena.
Price: $999.
Nadi X Yoga Pants
Yoga can be a difficult practice if you don't know the proper movements. You can join a yoga class to learn how to perfect those moves, or you can wear Nadi X pants. Sydney-based startup Wearable X wants to help you achieve flawless yoga moves. Nadi X comes with built-in haptic vibrations that gently pulse at the hips, knees and ankles to encourage you to move and/or hold positions. The smart pants sync up via Bluetooth to your phone and, through the companion app, gives you additional feedback. They come in four sizes – XS, S, M, L – and four styles – Midnight, Midnight with black, Black/White with mesh and Navy/Gray with mesh.
Price: $179.
Swings Hearables
Scandi Electronics has come up with innovative earbuds, and instead of calling them earbuds, they're referring to them as earrings. Dubbed "Swings Bluetooth Earrings," these earrings actually double-up as earbuds.
Use Swings as earrings and when you feel like listening to music, just "swing" them into your ear. Swing's smart technology when the bud is placed securely in your ear and automatically starts playing your music.
Swings are shockproof and sweatproof, allowing you to wear them during heavy duty workouts. Comfort cap back allows you to use them in bedtime. Listen to your favorite relaxing music just before going to bed. Swings will automatically turn off when you do.
With advanced audio technology, Swings is comfortable and provides stability when in use and can be easily paired with an iPhone, Mac, iPad and Android.
Price: starts at $129.
Livall Bling BH60SE Smart Bike Helmet
Give your loved one the Livall Bling BH60SE Smart Bike Helmet. It'll keep them safe all year round. With inbuilt GPS SOS system, LED lights, Bluetooth speakers and a microphone the Livall BH60SE delivers all the functionality a smart helmet must have. This crash helmet is well constructed and well ventilated.
The 3-axis G-sensor in the helmet ensures that you get help in case you fall while cycling alone. Once the G-sensor senses a unusual gravity acceleration, the emergency signals on the helmet gets turned on and an SOS alert is sent to your emergency contacts automatically.
Price: $125.
Garmin Vivofit Jr. 2 Kid's Fitness Tracker
Garmin's Vivofit Jr. 2 Kid's Fitness Tracker comes with Marvel's Spider-Man Themed Bands and Mobile App.
Using a comic-book style Spider-Verse app, kids can look forward to crushing activity minute goals to unlock new adventures, gems, games and step icons. New York City comes to life with enhanced animations featuring fun fitness facts integrated into the story to further encourage building healthy habits.
In addition to tracking steps, sleep and active minutes, kids can also use the vívofit jr. 2 to engage in friendly competitions with their friends and family.
Price: $79.99.