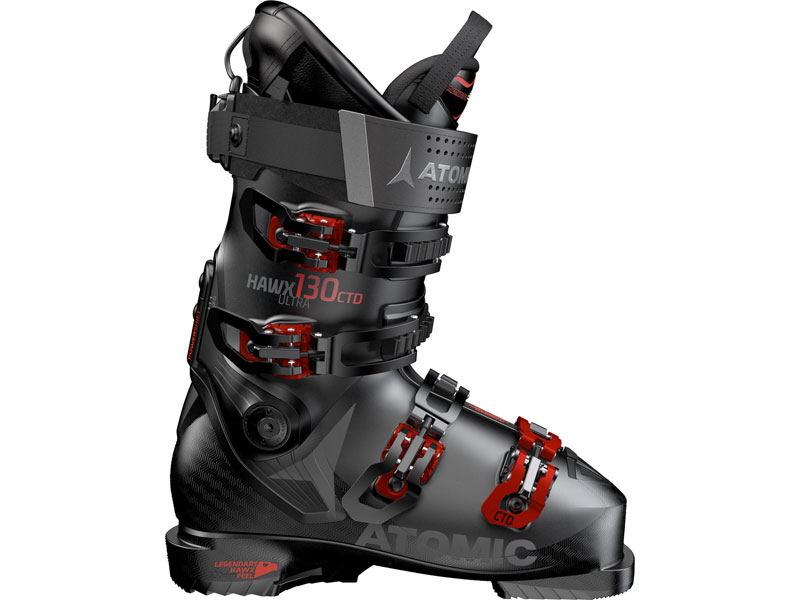 Austrian ski equipment maker Atomic unveiled the future of ski boot and skier connectivity with the debut of a digital skiing concept: the Atomic Hawx Ultra Connected.
Developed in conjunction with biomechanics experts from Salzburg University and Salzburg Research, Atomic's Hawx Connected concept delivers digital tracking and analysis capabilities through Atomic's free mobile Connected App for instant on-slope feedback and enhanced skiing experience.
Hawx Connected allows you to know precisely how to adjust your skiing technique for higher performance through refining your balance, pressure control and edging skills. Featuring Suunto's Movesense and embedded force sensors inside the liner that interface via Bluetooth with the Atomic Connected App, Hawx Connected uses sensory feedback from the boot with on-demand notifications for smarter, safer, and stronger skiing.
With in-depth technique analysis, the Atomic Connected App delivers loads of ski specific data like balance, pressure control, edging, slope angle, turn count, GPS track, run count, average speed, top speed, total distance, total vertical and more. The Atomic Connected App lets you casually compete with your own friends and share with the global ski community.
The Atomic Connected App is also your training log, coach, and ski buddy, giving you the perfect inspirational video and the ultimate breakdown of your skiing technique the second you finish each run while archiving your results from a season's worth of skiing. Set goals, reach targets, and improve your skiing.
Atomic did not reveal yet when the Hawx Ultra Connected Skiboot will be released and at what price. Smart wearables continues to be a big topic at the CES.
Wearable Technologies AG CEO Christian Stammel will also be at the CES 2019. He will moderate the session "Putting Wearables To Work" at the Wearable Tech Summit, a CES 2019 Conference track, on January 9th, 2019.
The session will focus on how wearable tech is becoming a work requirement. Augmenting worker capabilities, safety and productivity, wearables have moved from having potential to being impactful, and soon, essential.
The CES 2019 show floor will be peppered with new wearables across fitness, healthcare and more areas. The technology is maturing fast with mass market appeal.
In case CES is too overwhelming with its 4,500 exhibitors across 2.75 million net square feet of exhibit space, the next wearables event is just a few weeks later. At the WT Wearable Technologies Conference Europe 2019 in Munich, you can connect with Christian Stammel in a much more focused setting. The conference and expo is the must-attended annual meeting for global professionals of the entire wearable ecosystem.
More than 60 high-level speakers coming from Bayer, BMW, Casio, Gore, Microsoft, and STMicroelectronics will give you the latest insights in their applications and digitalization strategies via IoT and WT solutions and drive your business development.
The conference details and tickets for the WT Wearable Technologies Conference Europe 2019 in Munich are available on wearable-technologies.eu.