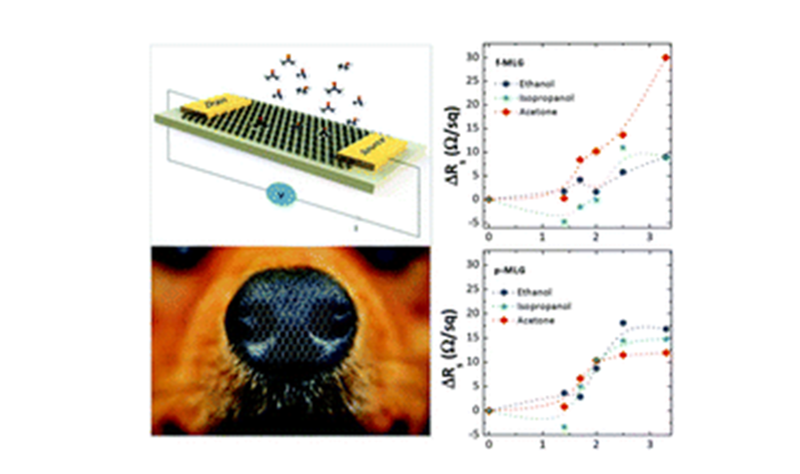 Most lung cancers are difficult to cure because they're diagnosed after the cancer reached its advanced stage. In recent years, scientists have found ways to screen people at high risk of the disease. Now, researchers at the University of Exeter has developed a highly sensitive graphene biosensor with the capability to detect molecules of the most common lung cancer biomarkers. Those biomarkers are present in abundance in our exhaled breath. Especially, chemical compounds like ethanol, acetone, and isopropanol can reveal the presence of lung cancer.
Read more Low-Cost Biosensor Can Detect HER-2 Breast Cancer Biomarker
Lung cancer is one of the most common and aggressive cancers, killing around 1.4 million people worldwide each year.
The new biosensor could revolutionize current method of electronic nose (e-nose) devices.
The researchers believe their new device have the potential to identify specific lung cancer markers at the earliest possible stage, in a convenient and reusable way – making it both cost-effective and highly beneficial for health service providers worldwide, reports University of Exeter.
"The new biosensors which we have developed show that graphene has significant potential for use as an electrode in e-nose devices. For the first time, we have shown that with suitable patterning graphene can be used as a specific, selective and sensitive detector for biomarkers," explained study co-author Ben Hogan, a postgraduate researcher from the University of Exeter.
"We believe that with further development of our devices, a cheap, reusable and accurate breath test for early-stage detection of lung cancer can become a reality."
The researchers used patterned multi-layered graphene electrodes, and were able to show greater sensing capabilities for three of the most common lung-cancer biomarkers – ethanol, isopropanol and acetone – across a range of different concentrations.
Read more AI Tool Accurately Detects Cancer Type and Genetic Changes in Patient's Tumor
They believe their new technology could be the first step towards creating new, enhanced and affordable e-nose devices that could deliver the earliest possible lung-cancer diagnosis.
The research is published in the Royal Society of Chemistry's peer-reviewed journal Nanoscale.