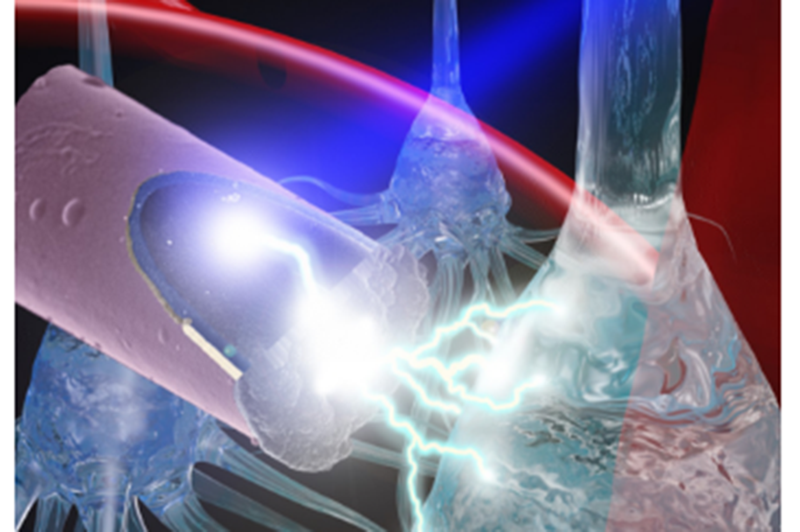 Neural Stimulation involves electrical stimulation of nerve tissues and is the basis of emerging treatments for neurological disorders such as Parkinson's disease. One of the major problems with this technique is the need to have a cable connecting the implanted electrode to an external controller. Researchers at the University of Pittsburg (Pitt) have developed a less invasive method of neural stimulation that involves an untethered ultra-small electrode activated by light, a technique that may mitigate damage done by current methods, reports Swanson School of Engineering – University of Pittsburgh.
Read more New Method of Deep Brain Stimulation Adapts to Patient's Changing Needs
"Typically with neural stimulation, in order to maintain the connection between mind and machine, there is a transcutaneous cable from the implanted electrode inside of the brain to a controller outside of the body," said Takashi D. Y. Kozai, an assistant professor of bioengineering in Pitt's Swanson School of Engineering. "Movement of the brain or this tether leads to inflammation, scarring, and other negative side effects. We hope to reduce some of the damage by replacing this large cable with long wavelength light and an ultrasmall, untethered electrode."
The researchers decided to use photoelectric effect, which is when a particle of light, or a photon, hits an object and causes a local change in the electrical potential.
The team created a carbon fiber implant that is 7-8 microns in diameter, or roughly the size of a neuron (17-27 microns). Kaylene Stocking, a senior bioengineering and computer engineering student, and first author of the paper, simulated their method on a phantom brain using a two-photon microscope. She measured the properties and analyzed the effects to see if the electrical potential from the photoelectric effect stimulated the cells in a way similar to traditional neural stimulation, according to the Swanson School of Engineering.
Read more Innovative Brain Implant Reads and Stimulates Brain to Improve Parkinson's Treatment
"We discovered that photostimulation is effective," said Stocking. "Temperature increases were not significant, which lowers the chance of heat damage, and activated cells were closer to the electrode than in electrical stimulation under similar conditions, which indicates increased spatial precision."
The team has plans to advance this technology further and try to reach deeper tissue and enable wireless drug delivery.