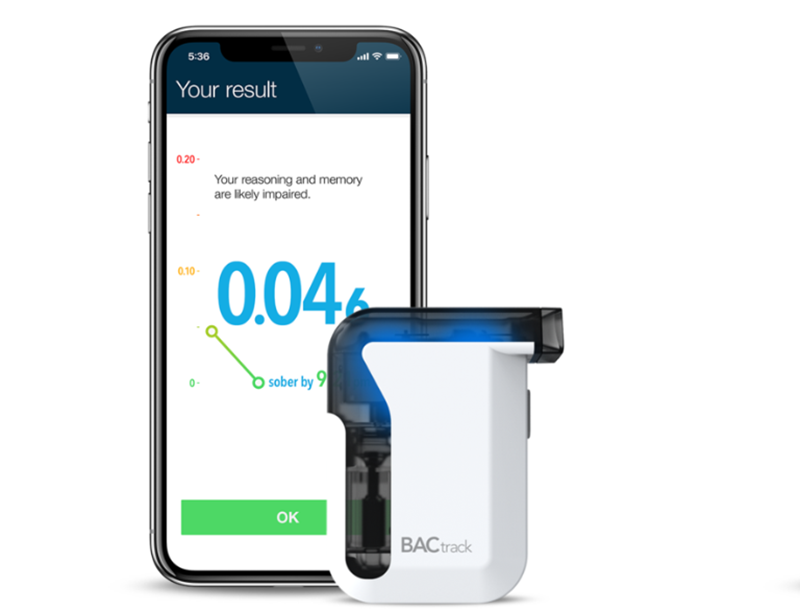 BACtrack, a leading alcohol testing platform provider, launched its next generation alcohol monitoring platform BACtrack View. The remote platform allows a person to monitor someone's blood alcohol content (BAC) directly from an iOS device. Using the front-facing camera of an iPhone, subjects provide photo-verified BAC results by blowing into a BACtrack. Monitors and accountability partners can set BAC test schedules, review results, and take immediate action in the case of a positive result.
Read more Know Labs Bio-RFID Platform Detects Blood Alcohol Levels
Alcohol is the third leading preventable cause of death in the U.S. and an estimated 88,000 die from alcohol-related causes annually.
BACtrack View is discreet, easy to use, and consists of the BACtrack View 2 app for iOS and a BACtrack Mobile, BACtrack C8 or BACtrack C6 device, all of which are small enough to fit in a pocket or purse.
The BACtrack Mobile offers highly accurate fuel cell sensor technology that detects even trace amounts of alcohol. A recent study from the Perelman School of Medicine at the University of Pennsylvania reported BACtrack Mobile's accuracy closely matched results from a device used by law enforcement agencies, says a press release.
"Just as we've expanded the market for breathalyzers by making them accurate, low-cost, and widely available, we aim to do same for alcohol monitoring with BACtrack View," said Keith Nothacker, President and Founder of BACtrack.
"By developing a powerful smartphone-based platform, we believe that millions of people who struggle with Alcohol Use Disorder can benefit," added Nothacker.
How the Platform Works
To begin using BACtrack View, both the Monitor and the Tester need to install the BACtrack View 2 app on their smartphones.
A Monitor sets a custom or random alcohol testing schedule for the person they are monitoring; on-demand testing is also available.
Automated smartphone text messages will inform a user when it's time to take a BAC test. To take a test, a Tester blows into their BACtrack device; the smartphone's front-facing camera captures a photo that is used to confirm the Tester's identity.
A Tester's verified BAC result is available to the Monitor via the app. A Monitor can take immediate action in the case of a positive result and will receive a notification if a test is missed.
Read more UT-Dallas Researchers Develop Wearable Sensor That Monitors Sweat for Alcohol And Glucose Levels
Pricing and Availability
BACtrack View subscription plans range from $79 to $129 per month. The use of a BACtrack Mobile device is included in all monthly plans, and there are no contracts, initiation fees nor cancellation fees.