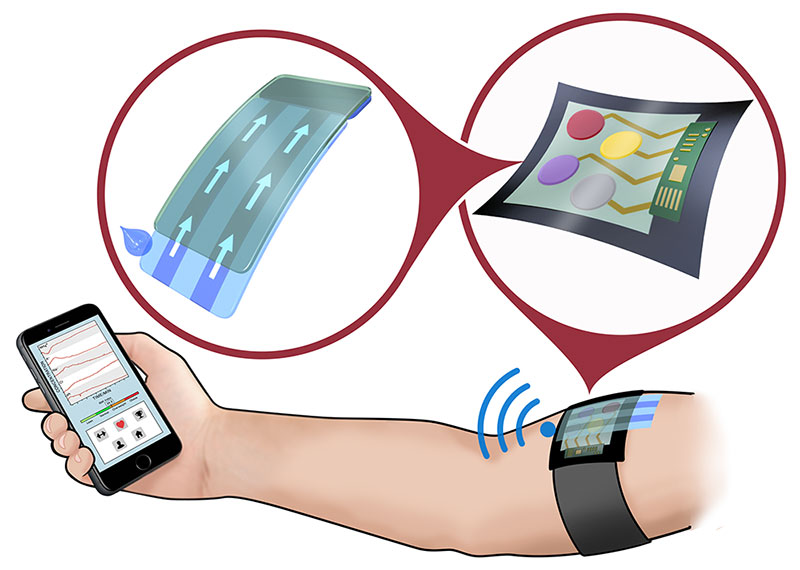 Traditional wearable devices can monitor step count, heart rate, blood pressure and even blood glucose. However, these devices have limited functionality and have issues around accuracy, calibration and reliability. A team of scientists at the KTH Royal Institute of Technology in Sweden want to change all that. So, they've developed multi-purpose electrochemical sensors to take measurements of blood and sweat.
Related Gatorade's GX Sweat Patch Helps Athletes Keep Track of Hydration and Lost Nutrients
These sensors can be incorporated into skin-patches, woven into clothes, deployed as microneedles, or even integrated with existing sensors such as accelerometers and ECG, to provide a broad-spectrum overview of important physical parameters, reports New Atlas.
"Both technology platforms can be used in medical contexts at home or during athletic activity. They could also be tools in hospitals and clinics," says Gaston Crespo, an Associate Professor in the Division of Applied Physical Chemistry at KTH.
What sets these sensors apart from traditional sensors is that these multi-purpose sensors are able to measure a wide range of important biochemical compounds such as sodium, calcium, magnesium, chloride, ammonium, glucose, uric acid, as well as amino acids like glycine. These sensors can also detect a range of problems. Such as dehydration, electrolyte balance and kidney problems.
"Kidney problems in particular are associated with the secretion of potassium ions for example and creatinine level in blood, which the technology can identify," says Crespo.
Related Sweat-Based Wearable Device to Measure Glucose
During intense physical exertion, lactic acid can build up in your bloodstream faster than you can burn it off and this is something the sensors can continuously monitor during the course of training.
"The sensors can also measure how stressed a person is, and their attentiveness," Crespo said.
WT | Wearable Technologies Conference in San Francisco on July 9-10
The most innovative wearables event will be back on July 9-10 in beautiful San Francisco at SEMICON West to celebrate the 34th edition of the WT | Wearable Technologies Conference Series. Topics include data analytics in professional sports, prevention, treatment and rehabilitation with wearables, the future of digital health, medication and adherence, smart patches, workflow optimization and workforce safety and much more – featuring international leaders and experts of the wearables industry´s biggest names including Abbott, Autodesk, Datwyler, Kopin, Maxim Integrated, Multek, NFLPA, Omron, SharkDreams, Qualcomm, and many more. Register now to be part of #WTUS19