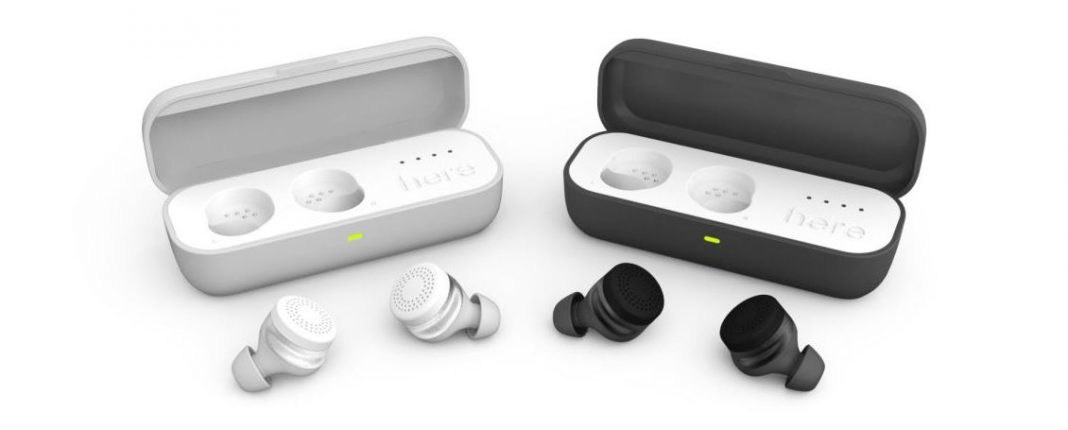 A growing number of startups in the hearable market confirm that the ears are the right place for wearable tech. While the focus is currently on wrist-based heart rate monitors, ear-based biometric headphones have their advantages. Thanks to the reduced movement and thin skin, the ear can be more accurate than the wrist, which makes readings easier to take. Apart from heart rate monitoring headphones we have some other new interesting developments like Here One, Audeering and Wavsciences.
Here One
Here Active Listening, the predecessor to Here One, was released in a limited 10,000-unit production run in January 2016 to an exclusive group of early adopters, influencers, and partners. This first version of Here One offered a limited feature set, providing real-world volume control, EQ, and sound effects. Here One is the first all-in-one, truly wireless listening system with two smart buds and a connected app. You can stream music, take phone calls, reduce unwanted noise, amplify speech, access Siri and Google Now, and much more. Users can selectively choose what they want to hear and control the volume of streamed audio and ambient sound simultaneously. Unlike normal headphones, Here One doesn't isolate you from the world. Here One learns your preferences, provides suggestions based on your environment and adjusts according to your personal Listening Profile.
https://www.youtube.com/watch?v=zlW_xA6haeU
Audeering develops next-generation, intelligent audio analysis. With the popular award-winning open-source speech and emotion analysis framework openSMILE as the core, they build world-leading solutions for intelligent speech, music, and sound analysis. Callyser is a tool which is capable of automatically analyzing voice recordings on multiple levels and has the ability to detect the speakers' mood as well as the dominating atmosphere during the phone call. This is all made possible by Audeering's sensAI technology. SensAI-Music is a software solution that automatically detects various different elements of a music track, such as tempo, meter, tune or vocals. Furthermore, lighting effects can easily be synchronized with music tracks, videos and effects can be trimmed and synchronized automatically along with a song and avatars and robots can be animated in a way to be in sync with the music.
Wavesciences
Wavesciences creates technologies that restore and enhance hearing and vision. In the near future, they are focused on their patented wearable and portable technologies for hearing, their patented flat panel waveguide loudspeaker and microphone array technology, and their patent-pending high dynamic range video camera technology. Their technologies for the ear allow for multiple benefits; restoring hearing which lets you hear noise over long distances, enhanced communication for directional and remote audio technologies which enhance communication by letting you hear "there" and not just "here" and protecting people. They also embed their expertise in waves inside of a suite of customized apps and accessories that help protect people – no matter where they may travel.
It remains interesting which new innovations and developments will be released in the coming y-EARS.