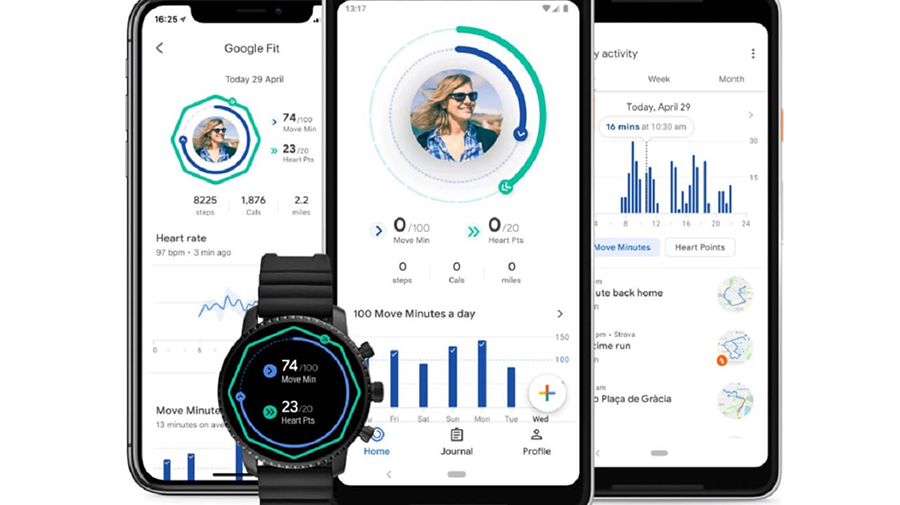 Google has revealed a redesign for its fitness tracking app called Google Fit. The new design focus is on closing rings, much like Apple (and the rest). According to Google, the rings are centered around health recommendations from the American Heart Association (AHA) and the World Health Organization (WHO). Every day, Google Fit encourage users to complete two goals: one based on "move minutes" and another based on a new concept called "heart points."
Read more Google Coach AI Assistant for Smartwatches May Help You Get in Shape
To earn 'Move Minutes,' you'll have to make changes to your daily routine, like walking to your destination instead of driving, or climbing up the stairs instead of taking the elevator. To earn 'Heart Point,' you'll have to engage in physical activity like jogging. Each minute of jogging will earn you one 'Heart Point.' More intense activities, like kickboxing or running will double the points.
All you need is only half-an-hour of brisk walking five days a week to reach the American Heart Association and World Health Organization's recommended amount of physical activity, which is shown to lower the risk of heart disease, enhance your sleep, and boost overall mental well-being, according to Google.
Throughout the day, Google Fit will use your phone or watch sensors to automatically detect any activity you perform such as walking, running or biking and gauge the number of Heart Points you've earned. If you are not into running or jogging, you can choose a different type of activities such as rowing, pilates or gardening; Google Fit will measure your Heart Points and Move Minutes during these activities as well. Google Fit can also be integrated with other fitness apps such as Runkeeper, Strava, MyFitnessPal and Endomondo, so you get credit for every Move Minute and Heart Point you earn.
Read more Google Is Tracking You Even When You've Turned Off Location History. Here's How to Fix It
Patrick Wayte, Senior vice president for the center for health tech at AHA, says his organization has contributed to the new system as an active collaborator rather than a full partnership with Google. The recommendation by AHA will appear directly inside Google Fit if users want to find out what these Heart Points are all about. "This gives us an opportunity to get people oriented around the science," Wayte says. Based on your activity, Google Fit will provide you with tips and help you adjust your goals over time.