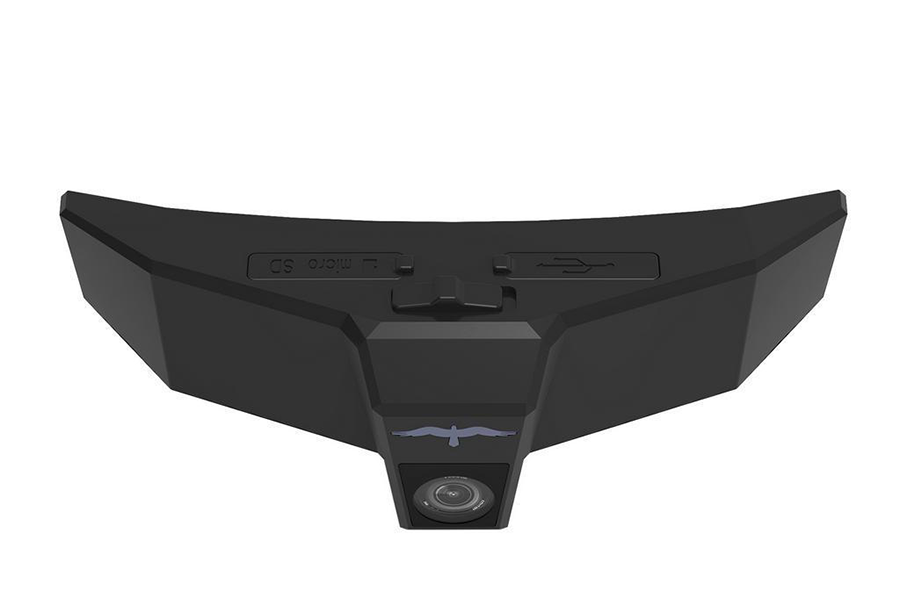 UHWK (pronounced: U hawk) is the first-of-its-kind contoured camera built for athletes. The ultra-light, low-profile and universally wearable sports camera can be used while playing hockey, lacrosse, baseball, football, fitness, basketball, soccer, tennis, golf or skiing. View your stroke, point of contact and where you were looking.
Related FITT360: A Wearable Camcorder that Records 360-degree video from your point of view
The camera is:
Compatible with almost all types of media player or video editing software
Stores up to 10 hours video with interchangeable memory capacity
Almost weightless and not noticeable during play
Water resistant, but not waterproof
Can be worn on a shirt or hat
Can fit into skateboarding or snowboarding helmet
Perfect for mental reps and timing by reviewing serves, returns and spacing pre-competition
With wide angle view, UHWK can produce 1080p and 720p video
It has a 135 FOV and a downward tilt of 10 degrees to better align with the eyes
According to the company, the history of U-HWK dates back to the year 1900 when the Hawkeye Brownie camera was invented and ultimately became one of the longest-running and most popular cameras in history. So, tipping their hats to some of that great camera history, the company decided to name their camera UHWK.
"The need within the athletic market place was really a result of the explosion of growth within the action sports point-of-view camera sector, with no product dedicated to real athletes for implementation during game play," says Conor Stokes, Vice President of Sales and Strategic Partnerships for UHWK.
"Our form-factor is how we set UHWK apart from any other camera on the market. It has been specifically designed for in-game use within all sports, including contact sports."
The body is made of PC/ABS with a rubberized finish. It is very strong but still an electronic. The mounting system is ultra-flexible which allows to it to best absorb and deflect impact unlike any other.
When the camera is turned on, the hawk above the lens illuminates red, and the camera beeps twice. When it is turned off, the light goes out and the device makes a single longer beep.
Each UHWK comes with a rubber-textured plastic case, shatter-resistant and anti-fog lens, and various custom-designed mount harnesses.
A micro-USB cable recharges the camera tool and retrieves the footage, although any standard USB will do. The camera also has a with a micro-SD card for storing and transferring videos, so you are ready to play right out of the box.
Read more OPKIX Raises $11.8 Million to Launch Wearable Camera for the Social Media Generation
Key Specs
Video: 1920x1080p HD 30 fps and 720p HD 60 fps
View: 130 degree wide-angle field of view
Format: MOV
Function: Records video with audio
Audio: MP3
Battery life: 750 mAh or 90 minutes recording time
Battery type: USB rechargeable
Using environment: Outdoors/Sports
Operating temperature: -20 to +50 degree celcius
External memory: Supports up to 32 GB SD (approximately 10 hours of video)
Software: Windows, Mac and Mobile compatible
Weight: 40 grams, including mount
Physical dimension: 8.5 cm x 2.5 cm x 2 cm (w x h x d)
Certification: FCC + CE + ROHS